Healthy & Safe: We Found The Best Kids Magnetic Toys For Kids in Singapore (2022)
Almost magic-like, magnetic toys are great for teaching kids basic scientific principles like gravity, honing hone key motor skills, helping kids learn simple construction and building skills – or even just plain old fun.
With endless options for creative imagination, your child is sure to love a good magnetic toy. Of course, ensure you're careful about which toys you hand over. So fret not! We've done the work for you and compiled a list of the best magnetic toys for kids. Get ready to buy toys your kids will love.
How do I choose magnetic toys for my kid?
Hold up! Before you start loading up your cart with the best magnetic toys, looking for a suitable toy for your child isn't as straightforward as you may think. There are two key considerations you must remember when shopping for magnetic toys in order to ensure your kid has a fun and enriching yet safe experience.
1. Construction materials
Let's face it: sooner or later, your wee tot is going to put whatever you hand them into their mouth. All parents know this; it's inevitable. So, of course, you'll want to make sure the materials that go into constructing the magnetic toy are non-toxic and safe in the event that they do (and will) end up in your child's mouth!
Stay away from toys made with low-grade plastics; these are likely to contain lead, phthalates, lead, and BPAs. These toxins are dangerous, and could harm your children, especially if accidentally ingested.
Plus, another side hazard of buying toys made of cheap materials: they're unlikely to be durable, and with all the beatings they'll endure, you'll find yourself shopping for new toys far too often.
2. Design
We recommend magnetic toys that allow for creative flexibility, like enabling your kid to build numerous constructions, create multiple shapes, and mess around with geometric designs. We're looking for versatility here – toys with only one function are so last season! This ensures that you get your bang for your buck, and your kid gets the most out of playtime.
What are the benefits of playing with magnetic toys?
They foster a love of learning
Magnetic toys are great in promoting a love of learning in younger kids! They usually require kids to figure out how they operate, and how magnetic forces of attraction or repellency tie into the toy, in order to successfully play with the toy or complete subsequent activities. We're fans of this hands-on approach, which is excellent for kids to first-hand learn how to develop creative problem solving abilities.
They help children develop critical thinking skills
Magnetic toys aren't just for idle fun, but critically develop cognitive skills in your child. As your kid plays with their magnetic toys, they're learning how to put pieces together, how to move them around to create different types of constructions, and the like. Again, this helps develop key fine motor skills they'll need when they're older!
These toys put them on track to become curious experimenters and scientists at a young age. Particularly with the range of simple to complex magnetic toys, kids are continually learning new skills at each level. 
They appeal to children
Most importantly, magnetic toys are fun! Kids love them! There's something inexplicably satisfying about two magnets clicking together, and every child has tried (to no avail) to get two repelling magnets to 'come together'. It's this discovery of messing about with magnets that is precisely so appealing to children, but also helps hone their love of experimentation, critical thinking, and learning.
Now that you're sufficiently equipped on how to pick the best magnetic toys for your child, read on and get ready to load up your shopping cart!
The Toy Folks's 15 picks for the best magnetic toy on the market
1. Best Basic Magnetic Building Set: PicassoTiles Magnet Building Tiles
Source: Amazon
A classic beginner for magnetic toy enthusiasts, this Amazon Choice toy is a fan favourite amongst parents and children. Children of all ages will love these magnetic tiles, which allow them to create endless constructions. These are great for working your child's creative streak! Featuring satisfyingly clicky magnetic tiles in eight vibrant colours and a bevy of geometric shapes, there's much to love with these tiles. They're less expensive than most competitors, too, while still retaining sturdy quality.
2. Sturdiest Design: Playmags Superset
Source: Amazon 
Falling on the more durable side, the Playmags Superset is for older kids who're looking to hone their inner architect with these magnetic building blocks. This set is great for building tall, sturdy 3D structures, with uber-durable magnets holding the blocks together. Your kid will have a blast whiling away the hours constructing houses, towers, statues, and more with these sturdy blocks.
3. Most Toddler Friendly: Blockaroo Magnetic Foam Building Blocks Windmill Set
Source: Amazon 
Your tots will love these soft magnetic building blocks made of durable foam. Especially great for the accident-prone toddler, you don't have to worry about your kid being injured when messing with these. Plus, they're soft and easy to wipe down, and even dishwasher safe, so those with messy kids can take it easy while the kids build the afternoon away with these sturdy magnetic building blocks.
4. Best for Young Artists: 4M Magnetic Tile Art
Source: Amazon
Kids with a creative streak will love this magnetic tile art set. Great for making your own fridge magnets, this set comes with a complete art kit to help you design to your heart's content. Turn ordinary magnetic tiles into fridge masterpieces that houseguests can ooh and aah over with the included paint brushes and magnetic strips – your kid is sure to love this nifty kit.
5. Best for Fidgeting: Speks 2.5mm Magnetic Balls (512 Speks)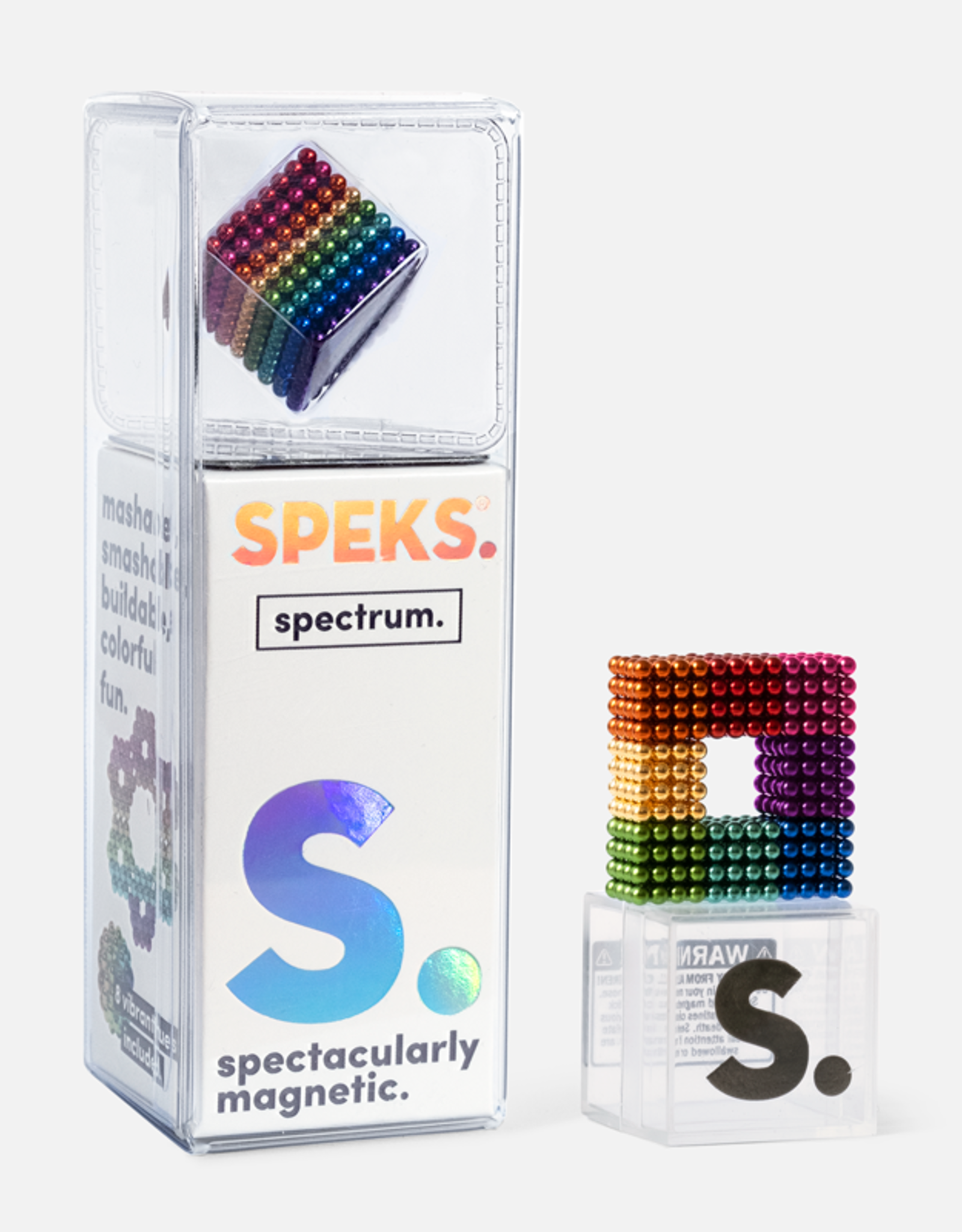 Source: The Toy Folks
We love the Speks Geode Magnetic Balls for total creative freedom. These mini magnets mash around in the most satisfying way to allow your kid to build heaps of creative constructions and many a shape to their heart's content!
This toy doubles as a great fidget toy or desk decoration as well – easy to grab out and fiddle with when you're stressed or looking to focus better. Just be mindful of the tiny magnets; keep this well out of reach of anyone below 14 years old or the small magnets can present a choking hazard. Otherwise, we guarantee the finest experience with this one!
6. Best Expandable Magnet: Magna-Tiles Set
Source: PlayHao
The Magna-Tiles Set is best enjoyed by older kids who possess more advanced motor and cognitive skills. Especially for those with a vested interest in STEM, they'll love the ultrasonic welding you can get with this bunch of tiles to create magnetic building blocks and more!
The unique shapes of these tiles will also help your kids learn about tessellations, angles, and more – so your kid can learn while having loads of fun. Kids playing and learning simultaneously is made a breeze with this toy!
7. Best Magnetic Mechanical Building Toy: Geomag Mechanics Magnetic Motion Toys
Source: Amazon
We're fans of the wide array and large number of pieces that kids can use for endless fun and construction. Your child is sure to love building more complex constructions with this kit: magnetic spheres, rods, tubes come in droves, rotating and spinning from the forces of magnetic repulsion and attraction. Not only can they stay busy and get creative while playing, they'll get a hands-on STEM lesson right under their nose!


8. Best Science Lesson: Magnetic Building Cube Set by GEOMA
Source: Amazon
We love the 174 pieces that all attach to each other in this kit. With a variety of different shapes, older kids will love the hours of endless play and open-ended fun they get from this kit that encourages young builders to test the limits of physics. Great for fun, but also simultaneous development of your child's mind.
9. Best Magnetic Geography Toy: Janod Magnetic World Puzzle English Edition
Source: Amazon
Give your kids a head start on world geography with this vibrant and interactive wooden map puzzle. Play with it on the ground, or hang it up on the wall, and let your little ones travel all over the globe with their feet firmly planted at home as they explore with magnets!
Kids of different age groups are sure to love how easy this toy is to clean, and how it doubles as an educational toy too. Just be wary: it's a little heavy, so take care to hang it up and secure it properly.
10. Best Magnetic Game: Pressman Let's Go Fishin' XL: Deep Sea Edition
Source: Amazon
You're probably familiar with this old school classic fishing game that's been around for ages. The premise of the game is simple: Use the fishing rod to catch as many fish as you can. And just like real-life fish, they don't remain stationary, so you've got to remain patient to try and snap them up.
This is more of a fun pastime or time-occupier than an educational, creative toy, but we think you'll enjoy an afternoon of fishing with your kids all the same. Comes with four fishing poles and forty-two fish!
11. Best Montessori-Friendly Magnetic Toy: Tegu 24-Piece Magnetic Wooden Block Set, Blues
Source: Amazon
For those looking for Montessori-style magnetic toys, you'll love the Tegu magnetic block sets. Tegu offers different varieties of sets that you can't go wrong with. We're particularly favourites of this one, which sets a great balance between the smaller sets (some of the monster or car sets have fewer pieces) and the more-pieced sets that threaten to break the bank.
12. Best Magnetic Puzzle: Go-Fish-Go Magnetic Wooden Puzzle
Source: Amazon
Toddlers will love using the magnetic wand to guide the beads through the maze. We especially love how this helps train their fine motor skills in such a fun and hands-on way too! Such toys are always a hit with kids; we promise they'll love this one.
13. Best Fridge Magnets: Wooden Animal Magnets by Melissa & Doug
Source: Amazon
This colourful 20-piece assortment of animal magnets will help kids learn how to identify all sorts of animals like lions, tigers, and bears, as they move them around. Perfect for idling by the fridge, these magnets let your kids' imagination run wild!
14. Best Creative Magnets: Imagination Magnets
Source: Amazon
This kit comes with 42 differently coloured and shaped magnetic pieces, which kids can go to town on to create pictures, from flowers, to animal faces, to buildings, to cars. Plus, they're super easy to pack up – just load everything back into the carry case and you're good to go!
15. Best BPA-Free: Log Cabin Magnetic Toy by Magformers
Source: Amazon
Older kids will love this 112-piece magnetic building set that comes chock full of 5 different types of geometric shapes. We especially love the vibrant colours on this set that makes the whole experience that much more creative and fun. Just be sure to keep these pieces out of the hands of your toddler, because the magnets are made from neodymium rare-earth materials and could potentially be dangerous if ingested.
Frequently Asked Questions
Is it healthy to play with magnets? Is it safe to play with magnets?
Yes! So long as the magnets aren't small enough to potentially result in choking, or aren't made of rare earth magnets – high powered magnets, and thus dangerous if swallowed – these magnetic toys are perfectly safe for your kids to handle. 
Remember to read the product safety sheet that comes attached with your toy as well, as each toy's safety sheet will address any safety concerns or safety issues differently. 
Otherwise, the toys should be perfectly safe for your kids to handle – just make sure to check for cracks in case magnets or parts come loose to avoid any safety issues.
What toys have magnets in them?
Toys with magnets come in all forms! Some are building tiles or blocks, others feature magnets as one of the mechanisms that helps the toy work; others require magnets to solve a puzzle.
What is a buckyball toy?
Toys containing "buckyballs" – magnetic balls measuring 3 to 5 mm in diameter – are small enough to be swallowed and cause perforation or infection in the intestines if ingested, so make sure to keep those well away from your toddlers.
Can kids play with magnetic balls?
Yes, of course! Just make sure the magnetic balls are minimally larger than 5mm in diameter and that the toys you buy come from reputable brands to make sure their manufacturing is reliable.