We Reviewed The 25 Best Educational Toys for 2 Year Olds (2022)
When it comes to finding the best educational toys for 2 year olds, it can be a daunting task. With so many toys on the market, how can you be sure you're getting the right one?
That's why we've put together a list of the 25 best educational toys for 2 year olds. These toys are perfect for helping your child learn and grow, while also providing hours of fun.
Here is a list of the 25 best educational toys for 2 year olds. For your viewing ease, we've grouped them into four categories:
Literary Toys
Environment Toys
STEAM (Science, Technology, Engineering, Arts, Mathematics) Toys
Motor Skills Toys
LITERARY TOYS
Learning is made easy and fun with Good Night Gorilla! Repetitive texts help to build phonological awareness and draw attention to individual sounds in words as well as rhymes and patterns. Not only does Good Night Gorilla repeat the words good night, allowing 2 year olds to become familiar with the phrase, it also names each animal as the zookeeper goes through the zoo. This is a great book and educational toy to refine your toddler's language skills while keeping them engaged.
This is, without a doubt, the most engaging book available on the market. It piques children's interest in finding patterns, making predictions, learning colours, recalling sequences, and having fun with a parent or sibling. After a few readings, your 2 year old will eventually learn how and when to clap or tap; rest assured, however, that the fun won't disappear.
If a book doesn't give explicit commands kids can follow, as Press Here does, try reading a children's story your kid can act out instead; it's a fun method to facilitate learning new skills, especially with language and listening. The popular Caps for Sale is one of the best books for this activity because it tells the tale of an unsuccessful hat vendor who runs into meddling monkeys in the classic tale. As the main character walks along the road balancing a stack of caps on his head — or at the end of the story when he stacks them all back again — children can pretend to do the same. This educational toy will keep your kids entertained for ages.
Duplos — Lego's larger bricks made with baby-sized fingers (and mouths) in mind — are ideal for this age. Kids' love for trains and automobiles is well-known, and these combine those toys with the brightest colours and the alphabet to create a present that is entertaining, educational, and pleasing to the parental eye. A fun and endlessly entertaining way to develop your toddler's color and shape recognition, as well as teach them the alphabet!
ENVIRONMENT TOYS
For many toddlers, pretend play begins around the age of two, making it an ideal time to start role-play. The Green Toys Doctor Kit allows children to become a familiar figure: a doctor!
The kit, which is made entirely of recycled plastic, includes familiar doctor equipment and encourages motor skills, creativity, and prosocial behaviour (in addition to helping relieve any anxiety about going to the doctor).
This cool torch allows you to bring stars, planets, and spacecrafts into the room of your toddler's nursery or playroom with the flick of a switch. 2 year olds are sure to be fascinated by the different glow-in-the-dark space patterns they can project on the walls with this torch; at the same time, learning about the planets, the solar system, and the world beyond is made easy, all from the comfort of their home.
You can count on this cleaning set to be well made and safe for toddlers, and is sure to train your 2 year old's hand eye coordination through this pretend play cleaning set. This toy pushes your child to be active and will help develop their imaginations; in addition, it can encourage social interaction when your child plays with other toddlers. Through this specially designed, mini-sized cleaning set, your child's fine motor skills are sure to be refined. Of course, the bright colors of the cleaning instruments are a bonus too.
Finger-puppet toys for this age, such as the skunk above, are especially fascinating since this brand's puppets are so highly realistic. Puppets may also encourage a lot of critical skills and learning, such as speech development in children, because they can act as the puppet and speak through it. Furthermore, you can use the puppets to get started teaching 2-year-olds about specific animals.
A bird feeder is a great way to provide 2 year olds with opportunities to explore and observe the world around them. Though they're definitely not going to go and put food into the feeder, your little ones will definitely enjoy watching the birds feed, especially if the feeder is set near their nursery or playroom. An educational way to keep your toddler occupied for hours on end.
For two year olds, viewing developing caterpillars and ladybugs can be a hands-on way to encourage them to examine how living organisms grow. A cup filled with five baby caterpillars and proper caterpillar food, as well as a pop-up mesh habitat, a chrysalis holding log, butterfly feeder, food droppers, and a STEM journal are all included in the Butterfly Garden kit.
Setting up this kit will necessitate the help of an adult (the manufacturer recommends 4 years as the starting age for this kit), but a 2-year-old will enjoy seeing caterpillars transform into butterflies up close. This is one of many educational toys that is sure to be a favourite with the 2 year olds.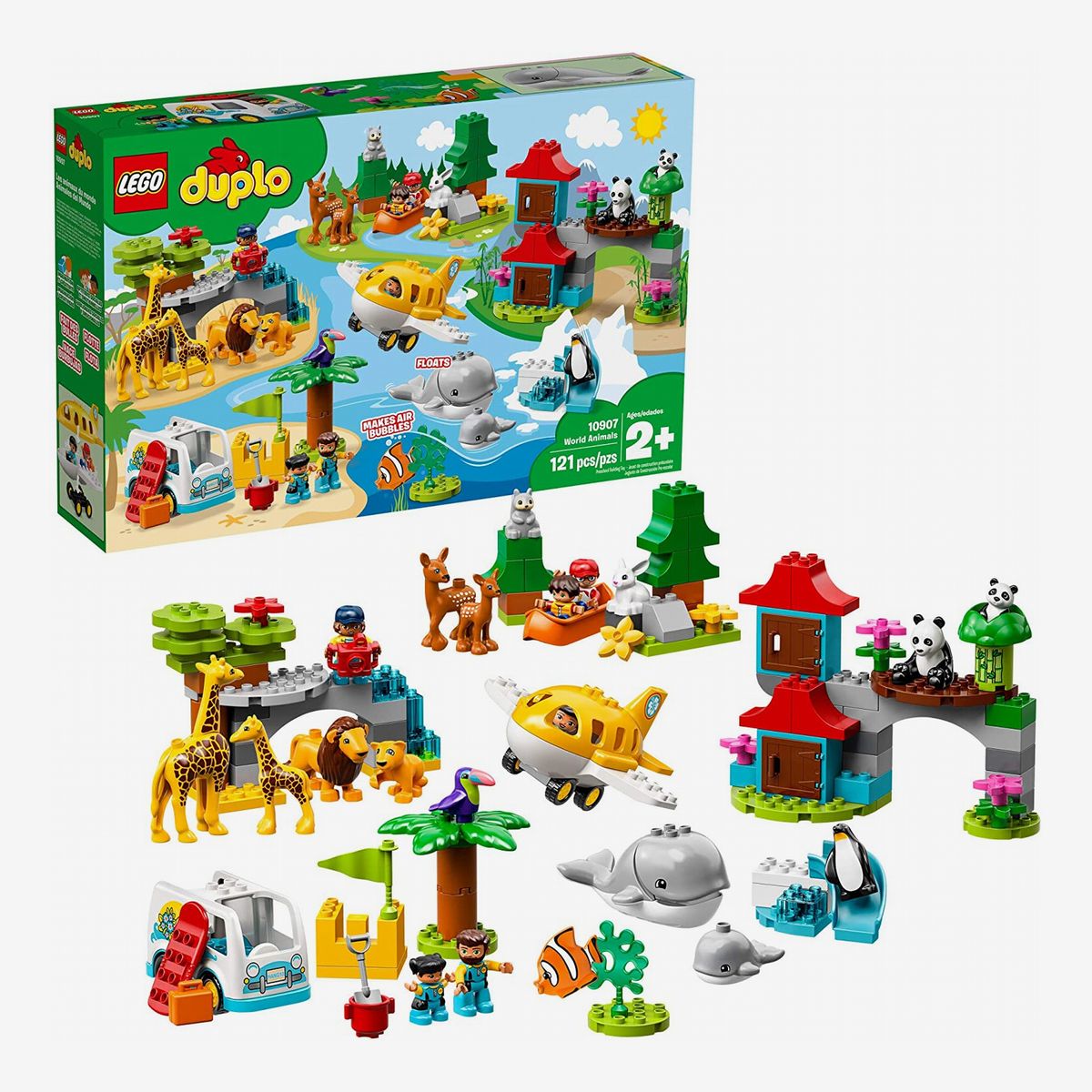 Duplos are a fantastic manipulative toy for a lot of reasons: they allow for open-ended, creative play while also allowing your toddler to practice being sequential. As well as improving fine motor skills, fitting Duplos together and pulling them apart will help 2 year olds become familiar with different shapes.
Plus, Duplos come in sets of all sizes; this kit has enough for two kids to concurrently play. Included are panda, giraffes, airplanes, pilots, and a canoeing father-son duo. Rest assured: they are big enough to not be choking hazards. These building toys will keep your 2 year olds — or even kids of all ages — occupied for an afternoon of fun.
Bunny Boo is a fantastic and fun introduction to concepts such as above or below, inside or outside, visible or hidden. Is the rabbit looking through the round hole or through the star-shaped one? Is it standing on top of the yellow, the red or the blue block? Some challenges may look very similar, yet the solution can be completely different depending on how far the ears of the rabbit stick out. Your toddler will be able to learn concentration, language, logic, problem solving, and spatial insight skills with toys like these. 2 year olds are sure to love this engaging and silly toy!
STEAM TOYS
This wooden ukulele is just the perfect size for your 2 year old's little hands and body, making it an accessible and fun way to build their repertoire of musical ability. Plus, should they drop or throw it onto the floor, the material holds pretty fast against scratches. The ukulele is tunable, too, so parents don't have to fear hours of off-key twangs on end.
This fold-up easel, which transforms into a desk, enables 2 year olds to explore colours and textures on a broad canvas with ease. Furthermore, because kids tend to paint using their entire body from their head to their toes, this will provide them with plenty of space to do so. When your toddler isn't tapping on their inner Piccaso, they can use the desk for other purposes, like work or reading.
This car racing ramp is a fantastic cause-and-effect toy for your child; your toddler will love seeing two cars go down the ramps and zigzag past one another. The bright rainbow racetrack has seven vehicles in corresponding colours that "jump" from one ramp to the next, producing a satisfying click sound. Learning physics and science has never been so fun for your toddler!
Art is essential for toddler learning and development, but the messes they make are still a major deterrent for the adults cleaning up afterward.The solution? Find materials that literally can't make a mess — like these Crayola Mess-Free Markers; their ink only shows up on a specific pad of paper. If you're on a plane or at a restaurant and they touch it to upholstery or a seat, it's not going to leave a mark. Your toddler can while away the afternoon doodling, while you can have peace of mind knowing they're not going to be scribbling over the walls.
Consider this twist on the basic Magna Doodle drawing board for a no-mess art project; it includes four magnetic stamps that imprint shapes on the drawing surface — which is comprised of several colored sections to make multicolored pictures. The toy is lightweight (but still durable), and features a handle that makes for easy portability; little hands can also easily carry it into a car, an airplane, or anywhere else.
MOTOR SKILLS TOYS
Get moving at home with this foam gymnasium playset that teaches 2 year olds how to climb and bend their bodies. Young and big children alike will enjoy playing with this climbing set, which can spark creativity and help develop gross motor skills.
This adorable three-piece set is composed of easy-to-clean vinyl and has a cute little toddler step to make climbing simple. Of course, as with any climbing equipment, you'll want to keep a close watch on your child while they use this.
This low-cost toy offers hours of endless learning and imaginative play at an amazing price point, and it's ideal for tiny hands. The Mega Bloks bag has 80 different plastic construction mega blocks. Toddlers may construct, create, and knock down their creations over and over again. At the end of playtime, parents can just store these blocks in the transparent see-through storage bag. As 2 year olds handle these blocks, they will slowly refine their motor skills and spatial awareness. Kids of all ages will love messing with these Mega Bloks to make creations of their fancy.
This jumbo wooden toy is a fantastic beginner puzzle that develops hand-eye coordination, visual perception abilities, and colour and shape recognition.
With large knobs for tiny hands, as well as extra-thick hardwood pieces, toys like these are ideal for toddlers ages 12 months and up. This is safe and appropriate for any 2-year-old.
Balance bikes are a key step between the tricycle and the bicycle, helping kids learning how to balance before worrying about pedalling. With the balance bike, they can even bypass the training wheel phase altogether. The Strider accommodates a wide range of ages, and is suitable for 2 year olds. Its seat can be lowered enough for an 18 month old, or raised to fit a 4 year old.
It's oddly satisfying to feel Play-Doh and squish it. Your kid might not produce anything spectacular, but who cares? It's fun anyway to make a ball and sit and play with siblings or parents. 2 year olds will be enthralled by the prospect of manipulating clay. And it's a great workout for your toddler: their fine motor skills will be developed through play, since Play-Doh improves dexterity in their little hands and finger muscles. Plus, they make for easy storage — just put the clay back into their colourful jars when your toddler is finished.
This weird-looking Swiss-designed Bilibo is for every position: sitting in, climbing over, filling up with stuff — whatever comes to the imagination; it can be a hat, a chair, or whatever 2 year olds want it to be. Toys like these are really open-ended, so your toddler gets to construct his own world. Kids of all ages will love messing around with the Bilibo, creating endless scenarios to toy around with.
These rubber "stones" are a fun way to develop gross-motor skills while also incorporating make-believe. This toy imitates real stones, which, if discovered in nature, would probably entice 2 year olds to try and balance as they walk across them.
The pieces can be arranged to make it easy or difficult for 2 year olds to hop from one to the next, and because they're compact, they're much easier to store. Learning spatial skills while combining imagination is sure to make an afternoon of engaging physical activity for your toddler.
This play kitchen set is sure to be a go-to play spot for 2 year olds. Thanks to the many different components — stove, microwave, sink, fridge, dog bowls, and more, all in a rustic design fit for a home upstate — opportunities for learning and play together are aplenty for your toddlers. Plus, alongside encouraging imaginative play and shared, cooperative fun, parents can take a breather to do actual cooking in the real kitchen. Guaranteed to keep your kids engaged for ages.
Still on the hunt for educational toys for 2 year olds? You can check out our other related articles here, and here to help you track down the perfect gifts.