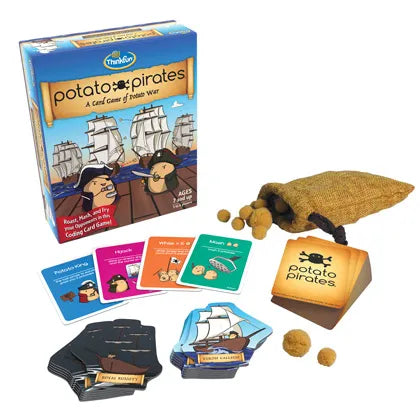 ThinkFun Potato Pirates
A Card Game of Potato War

Parents' Choice Recommended Award
Ahoy, Tatey! Voyage on the high seas in a quest to save the Potato King! Program attacks to roast, mash, and fry enemy potato crews in battle, but keep yer eyes peeled for Potato King Cards. Agi-taters abound who may loot and hijack yer ships! Brush me barnacles – ye may be hooked!

Skill: Logic and Problem Solving STEM and Creative Thinking
Age: 7 and Up
Players: 3 to 6 Players

Features:
24 Control Cards
22 Surprise Cards
7 Potato King Cards
Instruction Booklet
84 Potato Crew with Storage Bag (14 Big Puff Balls & 70 Small Puff Balls)
16 Ship Cards
32 Action Cards
Additional Brand Information
Frequently Asked Questions (if any)
Delivery in 3-5 business days, or immediate pick up in-store.