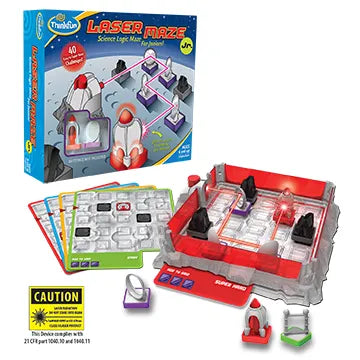 ThinkFun Laser Maze Jr.™
Science Logic Maze for Juniors!

The greatest logic maze game ever is ready to take off – and ignite your problem-solving skills. The mission is to use science and logic to reflect the laser beam to the rockets. Strategically place satellites throughout the maze game to guide the laser's path, but watch out for space rocks that might get in the way. With 40 out-of-this-world challenges, this fun logic maze game gives little scientists a boost of 21st century thinking.

Type: Junior Logic Games
Skill: Visual Perception and Reasoning
Age: 5 and Up
Players: 1 Player

Features:
Game Grid with Laser
40 Challenges from Easy to Super Hard
Instruction Manual with Solutions
11 Game Tokens (2 Rocket Targets, 3 Space Rock Blockers, 5 Satellite Mirrors and 1 Beam Splitter)
Additional Brand Information
Frequently Asked Questions (if any)
Delivery in 3-5 business days, or immediate pick up in-store.