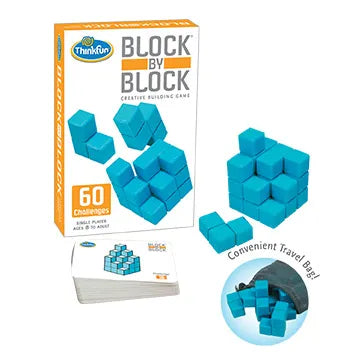 ThinkFun Block by Block
Creative Building Logic Game

Block By Block expands your spatial problem-solving skills as you combine seven puzzle pieces to construct three-dimensional structures depicted on the 60 challenge cards. The puzzle pieces are the same as the famous Soma Cube of the 1970s. This logic game is tough – and very fun!

Skill: Logic and Problem Solving
Age: 8 and Up
Players: 1 Player

Features:
60 Challenge Cards with Hints and Solutions
7 Puzzle Pieces
Game-Go Bag
Additional Brand Information
Frequently Asked Questions (if any)
Delivery in 3-5 business days, or immediate pick up in-store.