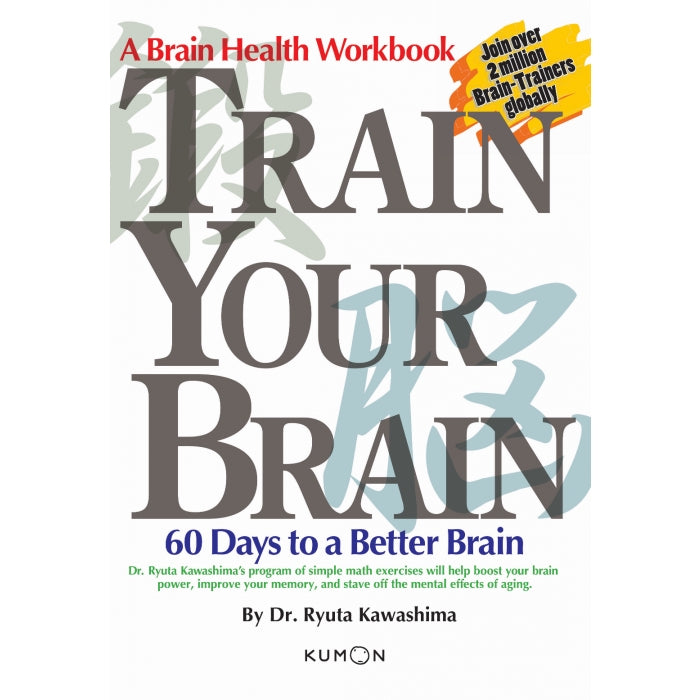 Kumon A Brain Health Workbook: Train Your Brain
Rejuvenate your brain with simple calculation exercises.

Designed especially for readers who want to keep their minds sharp and stave off the mental effects of aging, this book presents a complete 60-day program to build a better brain. The program consists of a daily worksheet of simple mathematical calculations that takes less than five minutes to complete. Each week, readers take a short pre-frontal cortex evaluation test to measure their progress.
The world has long recognized that physical exercise helps maintain a healthy, well-working body. Now it's time to acknowledge that our brains need a regular work-out too!
The theory behind Train Your Brain is based on the work of Dr. Ryuta Kawashima, a prominent Japanese neurological researcher. He originally set out to prove that video games provided healthy stimulation for our brains. Instead Dr. Kawashima discovered, much to his surprise, that the two best methods for activating the brain were performing simple mathematical calculations and reading aloud.
His experiments using MRI technology showed that these simple activities increased blood flow and neural connections to the widest areas of the human brain. Amazing! Dr. Kawashima then used these findings to develop a complete adult learning program designed to build a stronger brain.
Today, thousands of adults spend just minutes a day performing simple mathematical and verbal exercises designed to keep their minds sharp, improve their memories and stave off the mental effects of aging. If you want to stay young at heart, and sharp mentally, give Train Your Brain a try!

7 1/8 x 10 1/8 inches. Paperback. 188 pages.
Additional Brand Information
Frequently Asked Questions (if any)
Delivery in 3-5 business days, or immediate pick up in-store.