30 Best Gifts for 10 Year Old Boys in Singapore (2022)
The 30 Best Gifts for 10 Year Old Boys
It can be tough to find suitable gifts for 10 year old boys. They might not be into toys anymore, but they're not quite ready for teenage things either. Choosing the best gifts for 10 year old boys is hard; as kids begin to grow, their toys should reflect their growing maturity while still keeping them engaged in play. But don't worry, we've got you covered — here are the 30 best gifts for 10 year old boys. From games to art supplies, there's something for everyone.
For your viewing ease, we organised the toys by these four categories:
Educational
Entertaining
Reasonably priced
Splurgy
EDUCATIONAL + REASONABLY PRICED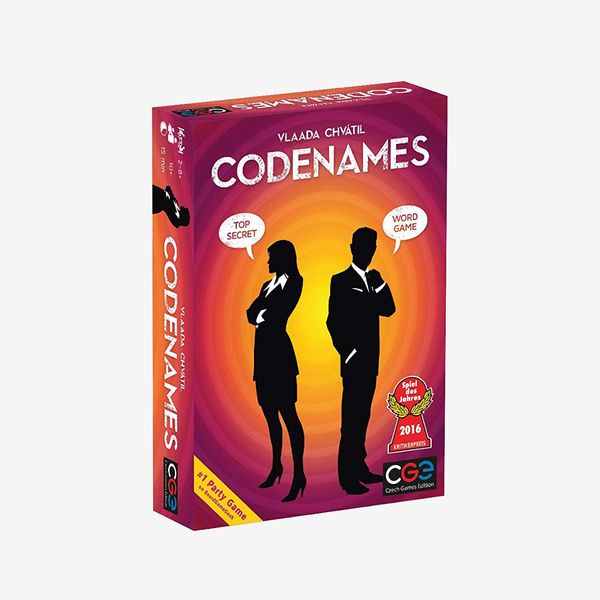 This is a board game that kids of all ages will enjoy. In Codenames, you're sitting across from your partner, a board full of word cards. You have to give your partner one-word clues that can point to multiple words on the board; meanwhile, their teammates try to guess words of the right colour while avoiding those that belong to the opposing team.
While this game is meant for kids ages 8 and up, younger kids will likely enjoy it because they generally come up with wonderfully creative connections between the words.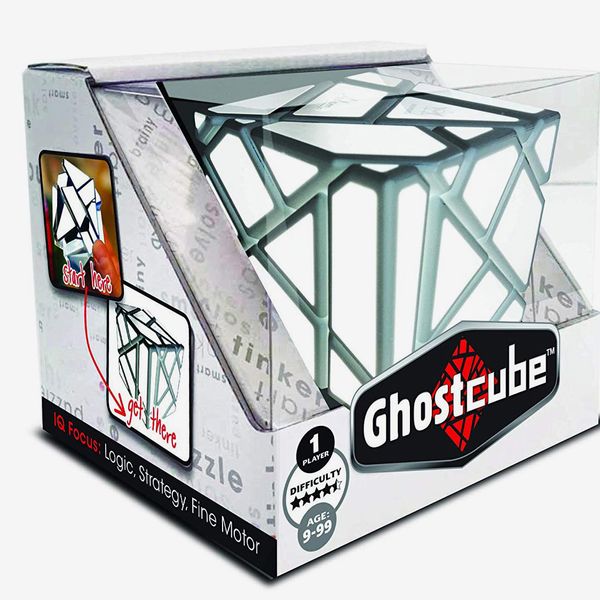 For 10 year old boys who've already mastered the classic Rubik's Cube — their fine motor skills are improving at this age, and the Ghost Cube presents a new challenge.
Unlike the rainbow Rubik's Cube, the steely-toned Ghost Cube does not involve aligning colors, but rather twisting up all kinds of shapes after which you are faced with the task of returning the pieces to their original cube form. Your 10 year old is guaranteed hours of fun!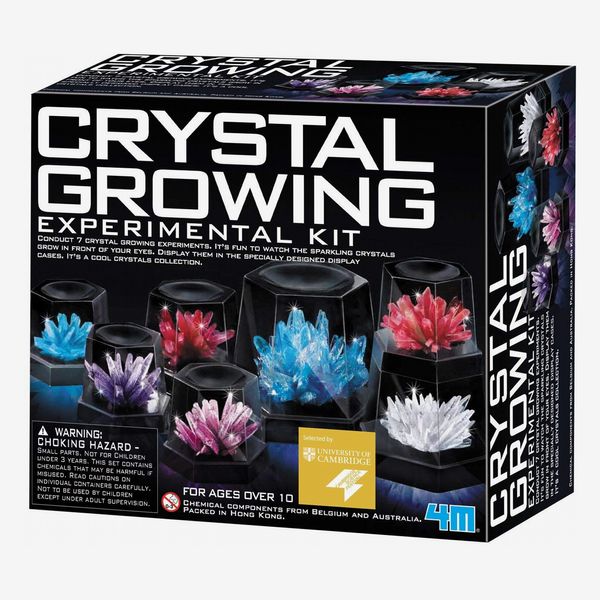 Speaking of things of beauty: This crystal-growing kit is a hands-on and fun way to educate youngsters about geology and experimentation.
With detailed instructions, you dissolve powdery compounds in boiling water and sow seeds according to the directions, then watch your faceted red, purple, or white stone grow under a clear dome and live on. Most suitable for kids who enjoy creating and experimenting.
In this anagram game, players must race to build word grids using all of their letter tiles. The award-winning game keeps your mind very sharp, and this just might be one of those toys you'll allow at the dinner table when your child gets antsy. This is one of those fast-paced games you just won't be able to put down!
Players battle Biff and his crew in this extremely entertaining "Back to the Future" game. It even has a tiny DeLorean Time Machine, seven movie character figures — and the 3D Clock Tower serves as a dice-rolling randomiser, making it totally authentic.
EDUCATIONAL + SPLURGY
This gravity maze requires visual perception and reasoning skills, with some elements of a marble game. Make towers and pave a route for your marble to reach its goal. A great gift for kids who love the challenge of reasoning and tinkering to create a solution.
The Spider Robot scuttles up and down its string like a real spider on silk thread, cleverly changing direction at the top and bottom. Make this spindly Spider Robot with the included body parts, motor and instructions. All young inventors are sure to have so much fun getting hands-on in putting these parts together! Suitable for older kids.
Can your kid build a cube from the 7 colourful puzzle pieces? Put your spatial insight, logic and deduction skills to work as you create cubes to solve each puzzle!
Cube Puzzler GO's case doubles as an attractive tray to play the game. Open the transparent cube to transform it from a storage case into a games board. The game includes a challenge booklet with 80 real 3D-challenges and solutions, which will help train your 10-year-old's planning, problem-solving, and spatial insight skills.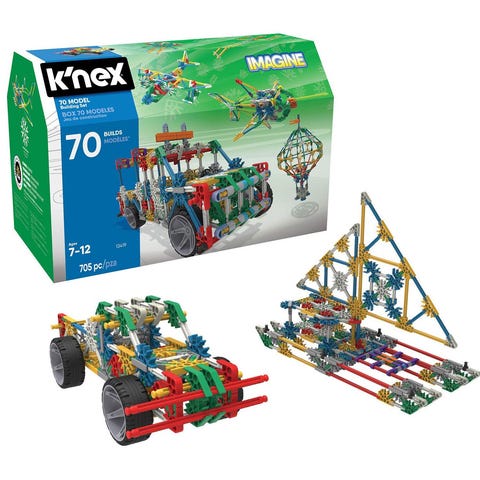 What sets this building kit apart from the rest is that your 10 year old's creation can actually move thanks to wheels, wings, tracks, and rotors that come in this box set.
This is the perfect gift for a kid who loves tinkering and problem-solving — it'll help enhance their hand-eye coordination, imagination, and spatial awareness while still being fun.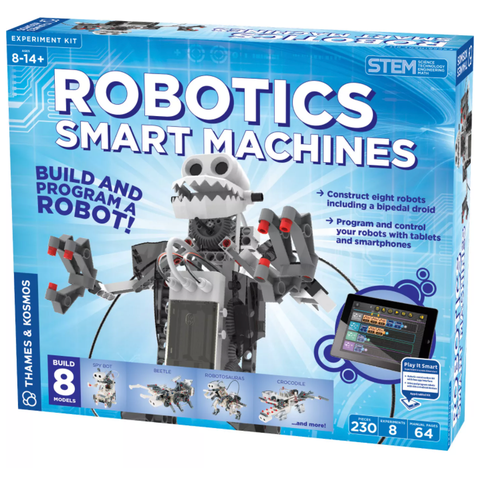 This smart machine kit will introduce your kid to the world of robotics, allowing him to code his own robots. He only needs a tablet to use the app, which links to the robot via Bluetooth.
Snap Circuits Jr. SC-100
With this building toy, young engineers can assemble over 100 different electronic circuit projects with just 30+ electronic parts. Kids can construct working models of a photo sensor, a flashing light, an adjustable-volume siren and much more. This stem kit comes with a clear, easy to understand illustrated instruction manual. No tools needed. All parts just click together and support a vigorous STEM/ steam educational curriculum. Learn by doing. Designed for young engineers aged 8 and up.
*Copied from Toy Folks directly
This educational, VR world-traveler kit allows kids to experience foreign countries, different cultures, and historical sites from around the world. The interactive augmented-reality atlas helps kids learn about everything from the construction of the Colosseum to digging up dinosaur bones using a smartphone, VR goggles, and an app. It combines reading in a traditional form with virtual reality to create a total immersive experience for kids to gather information, explore, and discover.
This is a fantastic method to keep 10 year old boys occupied for hours while educating them about the outdoors. This kit has 21 different activities that will get kids interested in the outdoors while teaching them about several sciences such as botany, geology, entomology, and chemistry.
The best part? It's also simple and portable, which is nice because it allows your child to take it to their outdoor playdates or outside with family.
Snap Circuits is one of many toys meant to appeal to STEM true believers. It may not that ensure your child grows up to be an engineer, but it does guarantee spent many a concentrated hour building an AM radio or figuring out how to turn a little motor.
This is one of the best drones for novices. Although it costs more than a toy drone, it boasts far more sophisticated features. Its HD camera, 500-meter range, and 36-minute flight time have been praised by tech critics. Your kid is sure to have a blast with their friends filming all their shenanigans.
When you have a set of walkie-talkies, you don't need phones. With this cool camo pair, your 10 year old be able to enjoy camping in the yard and even at home. This is the perfect present for keeping track of your adventurous child while still letting them frolic about in the backyard.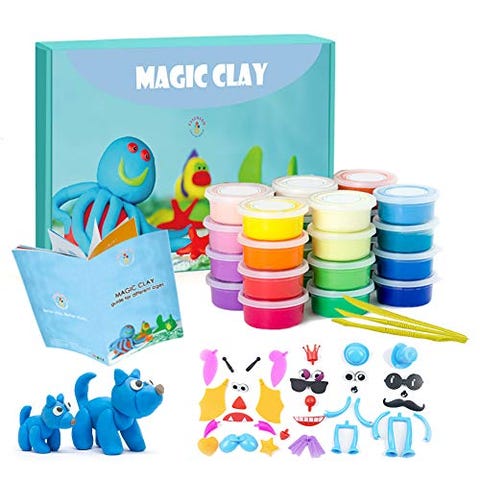 This fantastic modelling clay kit allows children to create their own characters and designs for hours on end. With 24 distinct hues, tools, and accessories, your youngster's imagination will soar with this fun art modelling clay set.
Plus, the figures dry and harden in 24 hours, allowing you (and your kid) to proudly display them throughout the house. Art has never been so accessible and easy!
ENTERTAINING + REASONABLY PRICED
Which kid hasn't wanted to go into the world of his favourite comics? Now your 10 year old can do just that with this creative kit, exploring art and exercising his creative muscles.
These bright headphones have over 24,000 five-star reviews and are guaranteed to wow kids of all ages. For less than $20, you can get a fantastic tech present that will undoubtedly impress kids of all ages.
Kids of all ages can't stop raving about this octopus plush toy that exploded on TikTok — on Amazon alone, it has over 59,000 five-star ratings on Amazon. It's reversible to reveal a happy or sad face, and comes in a plethora of colour assortments.
This is an excellent combination of board games and collectibles. Children must work together to defeat Thanos by selecting their favorite Marvel movies' superheroes, according to the toy's box. Players will discover mysterious Thanostones along the way, which provide a sense of discovery since one or more of over 30 mystery Marvel heroes may be found inside.
The game is expandable, so players who are really into it may discover new strategies to play the game every time, which is one of the qualities of a good board game. Don't be fooled by the suggested age of 6+; this toy can get quite sophisticated, making 10-year-olds the optimum age group to play with it.
The first player to aid all of his or her aliens escape into space with a real, flying drone (!!) is the winner of this fast-paced board game! The game, which can accommodate up to four players, incorporates a variety of play for added fun.
If this nostalgic family rolling-and-shouting activity didn't already have a special place in your heart, consider how it's being passed down through generations in famous households. Your 10 year old is guaranteed hours of fun with friends in this fast-paced board game. Suitable for kids of all ages!
ENTERTAINING + SPLURGY
Which kid hasn't wanted to go into the world of his favourite comics? Now your 10 year old can do just that with this creative kit, exploring art and exercising his creative muscles.
The RipStik is a two-wheeled balance and control toy that resembles a skateboard, but with four wheels rather than two. Throw in a helmet and pads for to boot for safety and your kid will be raring to go! Guaranteed an afternoon of fun.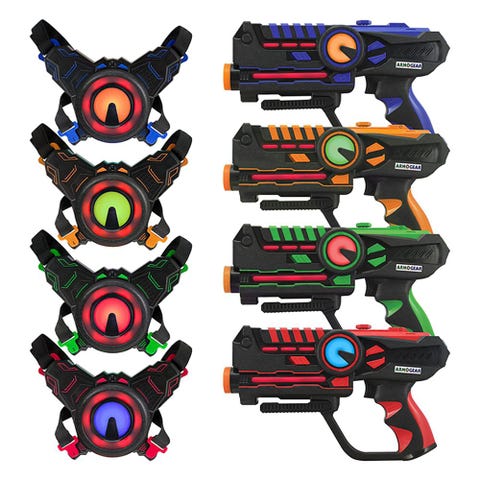 The perfect compromise for kids who want to spend their time with gadgets, and parents who want kids to socialise and get exercise! Your 10-year-old boy will love this laser tag set, which comes with four laser guns and vests. Team up or make it every (young) man for himself!
The perfect compromise for kids who want to spend their time online, and parents who want them to socialise and get into outdoor play! This laser tag set comes with four laser guns and vests, which your 10-year-old boy will adore. Make it a team effort or go solo with every (10-year-old) man for himself! Perfect played with the family, where siblings of all ages will enjoy an afternoon of ducking and fending off the lasers.
Corn hole is a highly popular outdoors activity for children, who can get especially competitive about the game. This collapsible version that conveniently zips up into an 11-by-11-inch bag and weighs less than five pounds is great for kids who play this often.
Plus, it's also a fantastic present for other people's children, since parents may not buy themselves something like this but will be very grateful to receive it.
The most recent addition to the classic beach and yard game Spikeball is an LED variant that allows children to play in the dark.The primary objective is to bounce the ball onto the net in such a way that the opposite team cannot return it. Like volleyball, a team is allowed three touches before it must be returned.
If the ball isn't returned, the opposing team scores one point. Once a team scores the designated number of points — and are ahead by a margin of at least two — they win. Fun for the whole family and kids of every age!
This Tamagotchi toy is a blast from the past, and guess what? It's back and better than ever to help your kids learn how to take care of a pet!
Equipped with a camera and touch buttons, though nurturing an online pet may not immediately appeal to boys, your 10 year old will eventually love taking care of their new virtual friend. Those pixelated animals really do grow on you.
Ride this cool gravity-defying race car up walls and down ceilings. The "zero gravity" laser control allows you to watch the vehicle climb up and zip down walls and ceilings as it travels around the track. Your 10 year old is sure to love playing with this car all the time.
For both kids and parents alike, Crazy Aaron's Thinking Putty may be stretched, pulled, and kneaded to tackle over 50 problems for both beginners and experts. Your 10 year old is sure to love the soothing push-and-pull of the putty.
Still on the hunt for gifts for 10-year-olds? You can check out our other related articles here, and here to help you track down the perfect gifts.